Sunday Morning Religious Education Program for Children and Youth
Nursery — Infancy through 3rd birthday
Loving Care for All
Our care providers, Mary Baker and Stephanie Vining, create a warm, welcoming environment for very young children.
---
Preschool – Kindergarten (ages 3, 4 and 5)

Chalice Children
We welcome young children into Unitarian Universalism by offering the safety of community. From this safe space, children are encouraged to sense the wonder of being an integral part of all life.  Children can look forward to spellbinding stories, active games, colorful art projects, scientific exploration, and energetic dance and movement.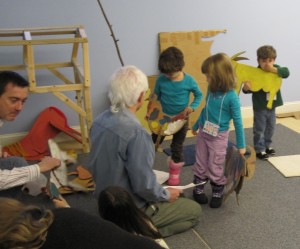 Revels: The Barn
In November and December, the children will explore the story of the Barn. They listen to stories of the baby born in the barn, build a barn, and then create animals to shelter in that space. They will share their animals with the congregation during the Revels worship service in December.
---
Grades 1 & 2
Creating Home

Children explore the sense of sacredness, the beauty of hospitality, and the gift of loving relationships that a home can represent.  Activities will include storytelling, sharing circles, art projects, games, and costume box theatre.(September-October, January)
 Revels: The Return of the Sun
Children explore humanity's relationship with the sun — as source of life — and consider how people have affirmed that relationship in history. The group will focus their energy on a big art project about the solstice which they will share with the congregation during the Revels worship service in December. (November, December)
---
Grades 3-4
Love Will Guide Us
Love Will Guide Us focuses on the sources of our living tradition.  It encourages children to address theological questions in a simple yet honest way and provides participants with the opportunity and language to formulate their own ideas and beliefs.  Activities include art projects, active games, songs, and costume box theatre. (September-October, January- February, April-June)
Revels: Celebrating the Return of the Light
In November and December, children will learn about how to lead worship for the congregation. They'll explore different traditional religious celebrations of the dark time of the year: Yule and Hanukkah. Then they'll share these traditions with the congregation during the Revels worship service. Activities will include wassailing, shadow puppetry, stories, and games. (November, December)
Social Action Project
What is a Food Pantry?  How does it work?  Who uses it?  Why?  The children will visit the Ilse Marks Food Pantry and then spend some time planning and then carry out their plan of how to support the local food pantry.  (March)
---
Grades 5-6
Love Connects Us

Love Connects Us helps children to explore how living in covenant shapes their lives.  What is our responsibility to and for one another in community?  How do we encourage one another in our search for truth and meaning?   Lots of active games, art activities involving rope, yarn, string and other connectors, and stories for reflection. (September – October, January)
Windows and Mirrors
Windows and Mirrors nurtures children's ability to identify their own experiences and perspectives and to seek out, care about, and respect those of others.  We don't all believe alike.  How do we talk among ourselves about our differing beliefs?  Games, art projects that explore our unique points of view, critical viewing of video clips, and stories for reflection. (January – June)
Revels: The Story

In November and December, children listen to and African folktale about the return of the light then create a shadow puppet presentation to share with the congregation during the Revels worship service. Look forward to adventures with cardboard, colored cellophane, tape, wire, and string as we wrestle with the deeper meanings of the story. (November, December)
---
Junior Youth — Grades 7 – 8
Compass Points

Compass Points encourages youth to discover what they believe about some of life's big questions:  about death and faith.  We'll create big art together with the Grafitti Wall of Death and introspective personal art with Altars for the Dead.  A great lead up to our congregational celebration of All Souls.  (September – October)
Building Bridges
What is it like to be part of another faith tradition?  This curriculum fosters acceptance of the diverse forms that religious expression takes.  Participants will have the opportunity to learn about other traditions, meet with people from different faiths, and discuss questions of faith respectfully. (January – June)
Revels: Santa Lucia
In late November and December, youth prepare and lead the annual Santa Lucia celebration during the Revels worship service.
---
Youth Programs at Unitarian Church of Sharon
Youth Ministry at Sharon focuses on creating a safe, open and growing community where youth are encouraged to explore their beliefs, express themselves, take care of each other and find their own place in this world. The youth are invaluable participants in the life of our congregation.
---
Senior Youth (Grades 9-12)
Through weekly meetings, overnights, retreats, youth worship, social action projects and congregational events, our senior youth create  strong bonds with their peers and adults.  Youth Group meets Sunday evenings from 5 to 7, and is open to all high school age youth.  These meetings are anchored in mutual respect, youth empowerment, leadership development, spiritual exploration and lots of fun!
The Youth Coordinator and a team of advisors work with the youth to create their programming and choose their activities. Your thoughts, questions, comments and ideas are always welcome!
---
Junior Youth Fellowship (Grades 7-8)
Junior Youth Fellowship meets once a month for a variety of activities that include conversations, games, questions, caring, and lots of laughter.
Coordinated by Chelsea Gould.
---
Coming of Age
Coming of Age (CoA) celebrates the spiritual transition from childhood to adulthood for youth who choose to engage in this year of discernment. We ask our 8th and 9th grade youth, after years of religious education classes, to consider what they have learned and to develop a statement of their religious beliefs at this point in their lives. A parent-youth orientation session was held in April 2017 to launch the program. From October 2017 through April 2018, each participant meets twice monthly with UCS religious professionals and with their mentor to explore their connection with central themes in Unitarian Universalism. The Coming of Age youth share their individual statements of faith during a very special worship service in May 2018.
---
Our Whole Lives
Our Whole Lives (OWL) is a comprehensive lifespan sexuality education curriculum developed in a collaborative effort between the Unitarian Universalist Association and the United Church of Christ.  
Parents are their child's primary sexuality educator.  The Unitarian Church of Sharon offers Our Whole Lives to foster the development of a lifelong conversation between parent and child about values, decision-making, sexuality, and ethics.
 OWL also helps our church community talk about bodies in a whole and wholesome way.  Our ability to communicate helps make our community safer.
 Our Whole Lives teachers are experienced religious education volunteers who have received extensive, focused training in sexuality education.
 The OWL component for young children (grades 1-2) is offered during the Sunday morning religious education program once every other year.   Weekly take-home activities for parent and child promote the extension of the conversation begun at church.  This 8-session program will be offered from January thru March 2018.
 OWL for children entering puberty (grades 5-6) is offered every other year as an optional program.  Sessions are held outside of regular Sunday morning programming.   Weekly reading assignments and activities are intended to be shared by child and parent.   This 8 session program will be offered from January thru March 2019.
 The Junior Youth component (grades 7-8) of OWL is offered as an optional program on alternating years with Coming of Age.   Sessions are held outside of regular Sunday morning programming.  A parent orientation session is held to launch the program.   This 28 session program will be offered from September 2018 through June 2019.
 All Our Whole Lives programs begin with parents.  Preliminary information sessions are held in the fall.  Later on, all parents who want their child to take part in an OWL program are required to attend a two-hour orientation.  At orientation, parents are able to talk with the teachers, review materials used in the program, and become familiar with the program's values and methods.   All questions are welcomed.
 Please contact Louise Marcoux, Director of Religious Education, for more information about Our Whole Lives at the Unitarian Church of Sharon.
---
Special Events and Activities
Snacks with Wendy – An opportunity for children and youth to enjoy some snacks together while chatting with our new interim minister, the Rev. Wendy Bell.  This event will be held on Sunday, September 17, during coffee hour.
Multigenerational Services – services for all ages. There are no RE classes on these days; however, nursery care is available.
Social Action – integral part of Religious Education. Curricula for preschool through grade 8 provide opportunities for children and youth to plan and participate in social action projects over a period of several weeks. Entire families are encouraged to participate in the Social Action Committee's monthly lunch-making project for residents of MainSpring House shelter for the homeless.
Religious Education Sunday – a worship service led by children and youth. Participants in the RE program share with the congregation some of the gems of wisdom they've gathered during their religious journeys together. It will be held on April 8, 2018
---
Seasonal Celebrations
Revels – our winter holiday celebration.  During Revels, children reflect on the meaning of the dark time of the year.  They spend several weeks exploring traditions and spiritual practices of many cultures and religions throughout the world, and then share these experiences by leading worship for the whole community on the second or third Sunday in December.  Revels 2017 will be held on December 10th.
Easter Can Hunt – The Easter Bunny has a tradition of hiding canned goods on the grounds of the Unitarian Church of Sharon.  After church on Easter Sunday, children hunt for cans, which are given to the Ilse Marks Food Pantry (serving residents of Sharon and Stoughton).
Rainbow Sunday – The Social Justice Committee leads this multigenerational celebration of LGBTQ rights and equality on the first Sunday in June. Everyone is asked to wear a shirt that displays one color from the rainbow (red, orange, yellow, green, blue, indigo, or violet). After worship, we sort ourselves into a human rainbow in front of the church and then celebrate with cake.