Worship With Us on Sunday March 26, 2023
Join Us In Person or Online
We need your help! Point your phone's camera at this QR code to sign up to be a greeter, bring flowers, or make coffee.
Greeter: Janet Schmidt
Coffee: 
Flowers: Edele Panessidi
Zoom Host: Jonathan Slavin
Intergenerational Service 10:30 am – Growing Up?
Each year, our high school youth group leads a worship service, and each year the congregation is treated to thoughtful reflections and fabulous music as youth deliver a message that is meaningful to them.  This year, the service explores the sorrows and the satisfactions of growing up and being a teenager in 2023.

There is no family service today, but the youth are planning a story for children and quiet activities will be available at the rear of the sanctuary. 
Music Upon Entering                                                                                       Christine Bulman, Interim DRE
Forsaken & Out of the Darkness, by Michele McLaughlin
Welcome & Announcements                                                                                                 Colin Plumridge
Prelude                                                                            Sadie Dussault, Charlotte Dussault & Jenny Theiler
Opening Words                                                                                                                     Colin Plumridge
Chalice                                                                                                   Charlotte Dussault & Sam Nichamoff
We light this chalice for Unitarian Universalism.
This is a congregation of open minds.
This is a congregation of helping hands.
This is a congregation of loving hearts.
Together we work for peace and friendship in our world.
Covenant                                                                                                                             Charlotte Dussault
Love is the doctrine of this church
The quest for truth is its sacrament
And service is its prayer.
To dwell together in peace,
To seek knowledge in freedom,
To serve humanity in fellowship
To the end that all souls shall grow
Into harmony with the divine:
Thus we do covenant together.
Joys & Concerns
"Wait and see, wait and see, what a world there can be,
                                                        if we share, if we care, you and me.."
Centering Hymn – Blue Boat Home Ena Bordman & Children's Choir
Story Time                                                                                                        Maria Gallant & Ena Bordman
Offertory                                                                                                                                     Jenny Theiler
In March the Brown Envelope collection will support UTEC (United Teen Equality Center, www.utecinc.org), whose mission and promise is to ignite and nurture the ambition of Massachusetts' most disengaged young people to trade violence and poverty for social and economic success. Based in Lowell, UTEC works with young adults, ages 17-25, who are out of school and involved with gangs or returning from incarceration. All services are designed to break down barriers to success Your support is greatly appreciated.
Reading                                                                                                                                     Suha Roustom
Musical Performance                                                                                                                  Ena Bordman
Reading                                                                                                                                     Sadie Dussault
Turn and Talk                                                                                                                          Colin Plumridge
Closing Words                                                                                                                        Colin Plumridge
In the rest of our time together and in the days ahead,
May we listen to our deepest selves.
May we be open to life's gifts.
And may we be moved to serve needs greater than our own.
Postlude                   Changes by David Bowie
---
---
Upcoming Events
Sunday Mindfulness Meditation Group: Sundays, 8pm on Zoom
We will do a 20-30 minute meditation in the mindfulness style of Thich Nhat Hahn, followed by about 15 minutes of discussion. All are welcome, no prior experience is needed. For more information and the Zoom URL, please email brad@bradlarson.com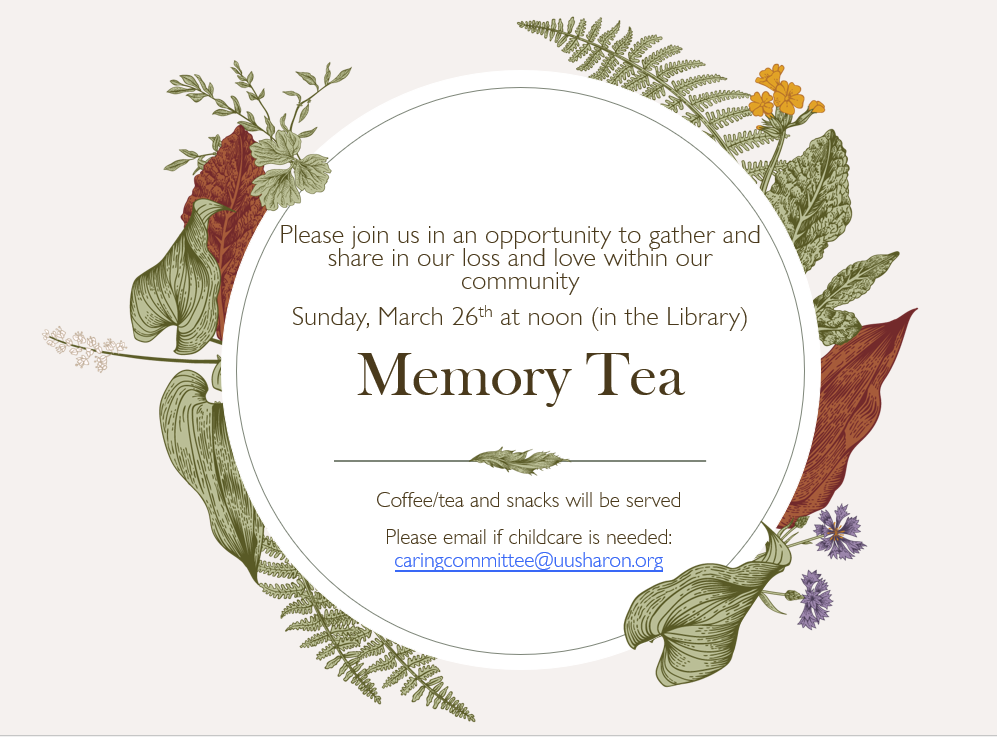 Committee Fair: April 2 During Coffee Hour. Learn how to volunteer at UCS to help make our church run.
Casual Music Jam: April 7, 7-9 PM, Program A/B. Join your UCS friends to sing and strum folk songs together every first Friday from 7 – 9 PM.
________________________________________________________________________________________________________________
________________________________________________________________________________________________________________
Zoom Link for our Virtual Sanctuary
Zoom information: Meeting ID: 945 6326 5033 Password: 3652
More Zoom information including the phone numbers can be found here
---
If you are joining for the first time, please sign our Visitor Guest book
---