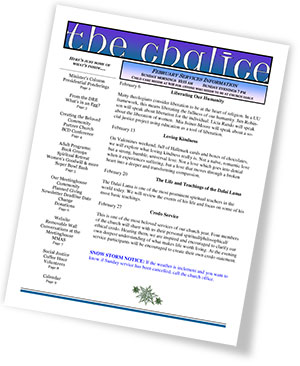 The Chalice is the monthly newsletter of the Unitarian Church of Sharon and a primary means of communication among its members.
The deadline to submit an item for the newsletter is the third Friday of the month by 5:00 p.m. Please e-mail all submissions, subscription additions or deletions to admin@uusharon.org.
Past issues are available here to download in PDF format.
September 2020 (3433k PDF)
July 2020 (3451k PDF)
June 2020 (3348k PDF)
May 2020 (2639k PDF)
April 2020 (2717k PDF)
March 2020 (4148k PDF)
February 2020 (3676k PDF)
January 2020 (3818k PDF)
December 2019 (4049k PDF)
November 2019 (3481k PDF)
October 2019 (2945k PDF)
September 2019 (4213k PDF)
July 2019 (4832k PDF)
June 2019 (3753k PDF)
May 2019 (4906k PDF)
April 2019 (3255k PDF)
March 2019 (4270k PDF)
February 2019 (5364k PDF)
January 2019 (4356k PDF)
December 2018 (6861k PDF)
November 2018 (5598k PDF)
October 2018 (4936k PDF)
September 2018 (3560k PDF)
July 2018 (3106k PDF)
June 2018 (3587k PDF)
May 2018 (4791k PDF)
April 2018 (7127k PDF)
March 2018 (5087k PDF)
February 2018 (3337k PDF)
January 2018 (3786k PDF)
December 2017 (3031k PDF)
November 2017 (3080k PDF)
October 2017 (2511k PDF)
September 2017 (1994k PDF)
June 2017 (2150k PDF)
May 2017 (4748k PDF)
April 2017 (2611k PDF)
March 2017 (3066k PDF)
February 2017 (4663k PDF)
January 2017 (2481k PDF)
December 2016 (5034k PDF)
November 2016 (2371k PDF)
October 2016 (1035k PDF)
September 2016 (1412k PDF)
August 2016 (4774k PDF)
July 2016 (629k PDF)
June 2016 (1023k PDF)
May 2016 (1210k PDF)
April 2016 (889k PDF)
March 2016 (1396k PDF)
February 2016 (1271k PDF)
January 2016 (1390k PDF)
December 2015 (1203k PDF)
November 2015 (2244k PDF)
October 2015 (1457k PDF)
September 2015 (1177k PDF)
August 2015 (1197k PDF)
July 2015 (1280k PDF)
June 2015 (1111k PDF)